Archived
This article is about something that was for a period of time or is no longer in Club Penguin.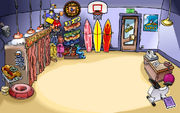 The Sport Shop was a room in Club Penguin. It was around from November 3rd, 2005 to May 22nd, 2010. The Sport Shop was eventually replaced by the Everyday Phoning Facility after it was destroyed by the Popcorn Explosion.
Trivia
Gary the Gadget Guy had owned the Sport Shop and had a room in it upstairs.
Music
There was never any music in this room, except during parties.
External Links
Ad blocker interference detected!
Wikia is a free-to-use site that makes money from advertising. We have a modified experience for viewers using ad blockers

Wikia is not accessible if you've made further modifications. Remove the custom ad blocker rule(s) and the page will load as expected.