Archived
This article is about something that was for a period of time or is no longer in Club Penguin.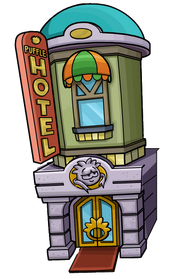 The Puffle Hotel was a room located in the Plaza of Club Penguin. It opened during the Puffle Party 2013 in March 2013 and closed along with the rest of Club Penguin on March 30th 2017.
Trivia
It was the newest building in the Plaza until the opening of the Puffle Berry Mall in July 2015.
The Pet Shop had to be moved in order to build the Puffle Hotel.
There was also an entrance to the Puffle Hotel in the Pet Shop.
During the Halloween Party 2014, the hotel suddenly shot up to have 13 floors and a basement, but was restored to the normal 3 afterwards.
Rooms
External Links
Ad blocker interference detected!
Wikia is a free-to-use site that makes money from advertising. We have a modified experience for viewers using ad blockers

Wikia is not accessible if you've made further modifications. Remove the custom ad blocker rule(s) and the page will load as expected.