Under Construction
This page contains links to Media1.clubpenguin.com which no longer work. It will be updated soon with archived links. Thank you for your patience.
Archived
This article is about something that was for a period of time or is no longer in Club Penguin.
The Plaza was a room in Club Penguin. It opened on 24th February 2006 at the Pizza Parlor Opening Party.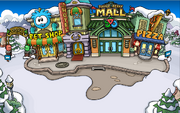 History
On 24th February 2006 the Plaza opened as a members-only room at the Pizza Parlor Opening Party.
On 2nd November 2007, construction started for the Stage. On 16th November 2007, the Stage was completed.
On 6th December 2012, the Plaza along with several other rooms were renovated as part of "The Journey".
On 7th March 2013 construction for the Puffle Hotel started. It was completed on 21st March 2013 in time for the Puffle Party 2013.
In April 2014 the Puffle Park was added. The Plaza now has 4 buildings and a park.
On June 4th 2015, the Stage was replaced by the Puffle Berry Mall, which had been present as a party room during two parties in 2014.
The Plaza closed, along with the rest of Club Penguin, on March 30th 2017.
Trivia
It is the second most important room in Club Penguin, the first being the Town Center.
It was given two audio sets; sound effects in 2013 and music in 2014.
Music
External Links
Ad blocker interference detected!
Wikia is a free-to-use site that makes money from advertising. We have a modified experience for viewers using ad blockers

Wikia is not accessible if you've made further modifications. Remove the custom ad blocker rule(s) and the page will load as expected.