Archived
This article is about something that was for a period of time or is no longer in Club Penguin.
Under Construction
This page contains links to Media1.clubpenguin.com which no longer work. It will be updated soon with archived links. Thank you for your patience.
Operation: Crustacean was an event that occurred in Club Penguin. It began on November 18th 2015 and ended on February 3rd 2016. The Extreme Paint Festival event at the Dock was present to cover up the first phase of this operation.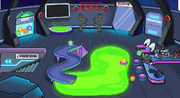 Trivia
During the two weeks prior to the operation, penguins were randomly abducted by the UFO.
It was the third Elite Penguin Force (EPF) operation to take place in November, the first being Operation: Blackout and the second being Operation: Puffle.
The operation was originally set to end on December 2nd. However, the plot carried through to February 2016.
During the Holiday Party 2015, decorations were put up in Area 501 and the UFO Hub.
The UFO finally took off on February 3rd 2016. The operation lasted for two and a half months, making it the longest EPF operation so far.
The conclusion of Operation: Crustacean and the Prehistoric Party 2016 marked the first time since August 2015 where there are no parties or events going on in Club Penguin.
Music
External Links
Ad blocker interference detected!
Wikia is a free-to-use site that makes money from advertising. We have a modified experience for viewers using ad blockers

Wikia is not accessible if you've made further modifications. Remove the custom ad blocker rule(s) and the page will load as expected.