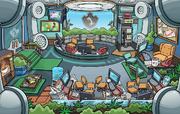 Under Construction
This page contains links to Media1.clubpenguin.com which no longer work. It will be updated soon with archived links. Thank you for your patience.

The Everyday Phoning Facility is a room located in west Club Penguin, in the Ski Village. It replaced the Sport Shop following the Popcorn Explosion in May 2010.
Trivia
The room was badly damaged during the Battle of Doom and Operation: Blackout. It was then repaired and eventually renovated respectively.
The facility originally had no music until 2015, making it one of the last rooms in Club Penguin to receive music.
It received music in June 2015, during the EPF Event.
Music
External Links
Ad blocker interference detected!
Wikia is a free-to-use site that makes money from advertising. We have a modified experience for viewers using ad blockers

Wikia is not accessible if you've made further modifications. Remove the custom ad blocker rule(s) and the page will load as expected.