Archived
This article is about something that was for a period of time or is no longer in Club Penguin.
Under Construction
This page contains links to Media1.clubpenguin.com which no longer work. It will be updated soon with archived links. Thank you for your patience.

The Descendants Party was a party that occurred in Club Penguin. It began on September 17th and ended on September 30th 2015. The party was confirmed by Megg in a blog post in August 2015.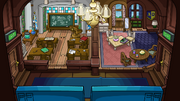 Trivia
The party was based upon the 2015 Disney Channel movie Descendants.
The party began just after the Fashion Festival finished and ended just as the 10th Anniversary Party started.
A smaller event, Talk Like A Pirate Day, occured for the first week of this party at the Beach.
A remix of the Anniversary Party and April Fools Day music played in the undecorated Town Center.
After the party ended, the party music was deleted and replaced by igloo music.
Music
External Links
Ad blocker interference detected!
Wikia is a free-to-use site that makes money from advertising. We have a modified experience for viewers using ad blockers

Wikia is not accessible if you've made further modifications. Remove the custom ad blocker rule(s) and the page will load as expected.